2016 Small Grants Awarded
Ganta United Methodist Workers Association (GUMHWA)
FOL previously funded a project request to build a caretaker center at Ganta Hospital in 2015 and GUMHWA solicited additional funds to purchase materials for the plumbing and electrical wiring this year. They were awarded $2,000 to finish the center. The building is pictured below!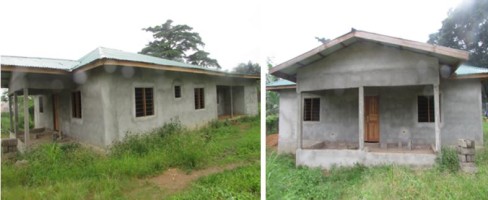 Center for Community Advancement and Family Empowerment (CECAFE), Department of Social Work at United Methodist University
Awarded $3,000 for phase II of this project (FOL previously awarded $2,000 for phase I). The purpose of the second phase is to provide psycho-social support to Ebola orphans, survivors and affected children as a result of the recent Ebola epidemic in Liberia under a conceptual framework styled Community Support for Ebola Survivors (COSES). The COSES project is providing Psychosocial Support to the targeted population with emphasis on a comprehensive Case Management approach to ensure that the targeted population receives long term, coordinated support that values their individual capacity and the strength of their community to enable them reach their full potential, as they rebuild their lives from the impact of the Ebola epidemic.
Initiative for Female Development (INFED)
Awarded $2,000 to purchase 10 sewing machines for female graduates from the INFED sewing and seamstress program at Red Light and Thinker's Village to enable them to become self-employed. The beneficiaries of the project are to pay back the cost of the machine once they begin their own sewing business.
My Heart's Appeal
Awarded $2,000 to support rehabilitation of a well at a special needs school.

Friends of Liberia Health Project Committee
Awarded $2000 to conduct a needs assessment, collect, analyze and report data and use it to propose advancing in-service education for nurse and mid-wife educators and practitioners in Liberia.
Previous Small Grants
September 2008
Mediators Beyond Borders – $750 to defray travel costs for mediator
Clark Memorial United Methodist Church – $500 to assist in a shipment of books
Liberian Education Action Project – $2,000 for teacher training
Browne Academy Day Care and Elementary School – $1,500 for health care feeding program, feeding program and desks, teaching materials and books
Board Generated Grants Awarded:
Browne Academy Dare Care and Elementary School – $2,000 for faculty Development/tuition for in-service teachers at Don Bosco Polytechnic School
---
March 2009
YMCA – $2,000 for textbooks for teachers in several cities
YMCA – $1,300 toward completing a library in Ganta
United Methodist University – Ganta – $1,200 to provide computers and cabinets for faculty at the nursing school
Zoduah Clan Farmers Cooperative, Cape Mount – $2,000 for the purchase of a rice mill
Kakata Teacher Training Institute – $1,500 to establish a farm
Board Generated Grants Awarded:
East Nimba Wildlife Reserve Survey – $2,000
Workshop and In-Service Training for Nurses, Nursing Students and Staff at United Methodist Hospital, Ganta – $3500.
Education Service Project involving returned Peace Corps Volunteers May 2009 at the Ganta United Methodist and Ganta YMCA Schools, $1,000
Supplement Grant to YMCA Textbooks for Teachers – $1,324.19
London Enterprises – Bikes for the World – $2,500 for shipping of bicycles
---
September 2009
African Community Exchange: $1300.00
P.O. Box 444, Midlothian VA 231113 contact: Candace Eastman – cbeastman@yahoo.com or Sophie Williams – swswilliams@comcast.net
To facilitate the "Literate Liberia Movement" by providing transportation for organizers, community leaders and school personnel as well as materials and supplies to students in grades 7-12 who will teach literacy to some 3000 people in the Monrovia area, including neighborhoods and market places.
Margibi Country Women's Association: $1985.00
no address given contact: Hannah Slocum – Mawoda_kakata@yahoo.com
To train women to re-establish the production of country cloth, including weaving, tailoring, needle work, design, marketing and sales.
Liberian Potters(Pottery) Association: $1750.00
no address given contact: Wilmot Barclay – LPAceramics@vmail.com
To purchase a kiln and related materials to enable a group of potters to become self-reliant through training more potters, providing production access for more potters and developing marketing strategies.
Visions in Action: $1600.00
2nd Street behind the YWCA, Congotown, Monrovia, Liberia; also U.S. address of organization 2710 Ontario Road NW, Washington DC contact: Jo-Zette Dick – jdick@visionsinaction.org
To distribute scientific calculators to high schools and universities in certain counties and also to educate teachers in the incorporation of calculators into the curricula and the learning process
---
February 2010
Living Stone Outreach $1000.00
To construct a new kitchen to serve the residents and workers of their Women's and Children Rehabilitation Center, an orphanage outside Monrovia. $2000.
Football to Develop Destitute (FODEDE). To train youth in football (soccer) and life skills, including leadership, team building and networking, hopefully enabling some to earn athletic scholarships to college.
Kakata Rural Teacher Training Institute (KRTTI)$2000.00
To rebuild chicken house on the school's farm.
The Children's Reading Center $2000.00
To partially fund "Liberia Reads", a primary-age literacy project in four schools: Monrovia (2), Ganta and Kakata. .
FUEL Youth $1925.00
U.S.-based. To build a community well and school water system on Swaggart Island outside Monrovia. .
Community Welfare Association $1972.50
To restock Zoegeh District, Nimba County, with piglets, feed, medicines and materials (called the Lorkia Cattle Farmers Association Project). .
Samuel J. and Mary S. Mentee Foundation $1800.00
To purchase materials for an early childhood education teacher training workshop, using LEAP methodology, for its future community school in Kakata.
---
September 2010
ZODWOCA, Inc. $1000
Provide voting workshops for women in cooperation with other NGOs.
P.O. Box 4245, 42 Carey Street, Garnett Building, Monrovia. Agnes F. Kortimai. zodwocaliberia@yahoo.com.
Mission to Liberia, Inc $2000
Improve drinking water in Margibi County, then to others.
17 Deerfield Terrace, Rochester MA 02770. Mike Cambra. freightmaster@comcast.net
STAR Radio, Inc. $2000
Purchase two motorcycles for journalist-correspondents in rural areas.
12 Broad Street, Monrovia. James K. Morlu. Starradio_Liberia@yahoo.com
The Niapele Project: $1938.80
Provide structural improvements (fence, pump for well) to center for disabled children.
3371 Glendale Blvd., Unit 227, Los Angeles CA90039. Penelope Chester. Penelope@the niapeleproject.org.
Liberian Assistance Program, Inc.: $1885
Purchase equipment for new school in Cow Field, outside Monrovia.
4001 Hiawatha Drive, Madison WI 53711. Judy Reed. laporg@gmail.com.
PLAN for the Children Humanitarian Aid $1400
Provide skill and entrepreneurial training in tailoring, cosmetology and soap-making.
SOS Junction, Matadi, Monrovia. Saah Joseph. brookemackinnon@gmail.com.
---
March 2011
Community for Peace and Development Advocacy will support 100 farmers in Nimba County to grow cassava and rice and develop a local farmers' association. Awarded $2,000.
Rise Liberia plans to buy a power supply, shelving, seating, carpeting and curtains for a library in Monrovia in partnership with We Care, Library. Awarded $2,000
National Youth Action will enhance a farming operation that will generate income for scholarships for children in need at a secondary school in Paynesville City. Awarded $2,000.
Corporation for Economic Opportunity plans to repair buildings, build quilting frames, register with the government and enable a US partner to process payments for the quilting group in Caldwell Township. Awarded $2,000.
Green Coast Agriculture Program will train students and instructors in gardening and will buy seeds to sell harvested crops in Kakata. Awarded $1, 450.
Teacher Consultant Group plans to buy instructional materials for a three week K-3 female teacher training workshop that will provide supply kits for 150 participants in Montserrado and Margibi Counties. Awarded $2,000
Refuge Place International will aid in the construction of a hospital that addresses maternal mortality among the poor and destitute in lower Johnsonville and Chicken Soup Factory Town and to hire a nurse-midwife. Awarded $2,000
---
September 2011
West Africa Initiative of Liberia (WAIOL) in partnership with United Methodist Church
To introduce beekeeping, snail raising and Moringa production for Liberian women in Glakapallah, Bong County.
Awarded $1988
Liberian Translation and Literacy Organization (LIBTRALO)
To sustain and develop mother tongue literacy through purchase of heavy-duty stapler to bind books in several indigenous languages.
Awarded $1900
Friends United for the Education of Liberia's Youth (FUEL Youth)
To develop library at pre-kindergarten-to-9th grade Christian academy on Swaggart Island in Gardnersville through purchase of shelves, tables, chairs and shipping books to Liberia.
Awarded $1975
Voice of Tappita. (Nimba County)
To purchase equipment, transportation and supplies for radio station in anticipation of general election in October 2011 and beyond.
Awarded $1950
Francis Mitchell Memorial Academy (FRANMA)
To create a reading room at a private kindergarten-to-9th grade school that utilizes teacher trainees from KRTTI (Kakata).
Awarded $1955
---
March 2012
Women Care International.
Ophelia Mathies. To fund a resource room for training women and girls with job skills, particularly computer, entrepreneurship and advocacy. Monrovia.
Awarded $1970.00
Evangelical Soul Rescue Mission.
Terri Enright. To purchase 80 desks for a new K-4 school. Zwedru.
Awarded $2000.00
Education First, Inc.
Dr. Blidi Stemn. To purchase instructional materials for math and science teachers at different schools. Working with faculty at Tubman University and Liberian math professor in U.S. Harper.
Awarded $2000.00..
West Africa Youth Agenda against Corrupt Practices.
Austin Stanion. To empower youth by converting a 10 hectare plot to a rice farm and sustain it with proceeds. Near Monrovia.
Awarded $2000.00
---
September 2012

1. Imani House/Twe Farm on Bushrod Island~
$2,000 will support its adult education program by covering a portion of the sewing teacher's salary and to purchase six sewing machines to be used at two market sites (Rally Time and Duala).
2. Friends Computer Institute at Phebe Compound, Bong Co.~ $2,000 will train 20 faculty and staff of Phebe Community Lutheran School in information and technology by purchasing materials and fuel and to pay an instructor's stipend and other incidentals.
3. National Youth Action, Inc. (NAYA) in Paynesville
$1,997 will be used to continue its training in life skills that generate income by purchasing baking materials for 25 trainees, supplanted by other funds for rental and outfitting of shop. NAYA hopes to later provide awareness through radio programming to educate the public on issues relating to post-crisis youth and will expand with peer training to educate on drug awareness.
---
September 2013
Association of Disabled Females International
ADFI Website. Awarded $1300 to establish a sewing/tailoring project for 12 disabled females. The funds will support tailoring materials and the maintenance of sewing machines and stipends for (volunteer) trainers.
FUEL Youth: Friends United for the Education of Liberia's Youth
FuelYouthLiberia.org: Awarded $1800 to expand a solar panel installation at a school on Swaggart Island. Funds will be used for parts and labor, shipping costs and eight laptops.
Women United to Fight Sexual Violence in Liberia
Awarded $2000 to provide support for rehabilitation programs for victims of sexual and gender-based violence in their safe home in Kakata, Margibi County through Radio messages, personal visits, a hotline number, plus sewing, cosmetology and agri-business training for girls age 10 and up.
Bosh Bosh, Inc.
BoshBosh.org: Awarded $2000 to expand burgeoning project by increasing marketing of locally-sewn bags, keeping girls in school and giving them life skills.
---
September 2014
Coming Soon.
---
September 2015
Ganta United Methodist Hospital
Awarded $2,000 to help pay for the materials to build a caretaker center that will provide for short stays of relatives visiting hospital patients.
Waste Not, Inc.
Awarded $2,000 to construct a roof on a larger facility that will allow for the growth of its sewing and quilting program. We understand that this will enable another 12-15 women to receive training. Your program will be sustainable through product sales, government contracts, donations, religious sponsorships and member dues. Intention is to expand into baking and hairdressing training
Youth Coalition for Education in Liberia (YOCEL)
Awarded $1,640 to provide school materials to children who were affected by the Ebola crisis and to facilitate a semester-long workshop. The activities are within a project entitled Post-Ebola Student Assistance Program. We understand that you will specifically purchase school supplies, provide tuition, use the funds to help with communication, transportation and publicity.
---