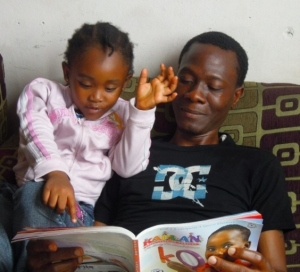 Christmas 2015 is over, but the opportunity to make a lasting difference this tax year remains. Your donation to Friends of Liberia (FOL) will help fund , a partnership between FOL and HIPPY-International plus the WE-CARE Foundation in Monrovia, to raise school-readiness, parental involvement, and literacy in both children and adults. After the decade of war and the ravishing effects of Ebola in Liberia, UNICEF estimates that no more than 31% of Liberian children are attending school, and literacy is among the lowest in Africa. Without improved education, can Liberia solve its ongoing challenges? Can peace be maintained?
FOL needs to close the gap to fully fund the Family Literacy Initiative pilot in January of 2016. FOL is an independent 501(c)(3) non-profit organization. Contributions are tax deductible. Donors will receive a receipt in January to confirm a 2015 donation, plus the satisfaction that the donor will be a real partner making an investment in many Liberian lives and the country's future!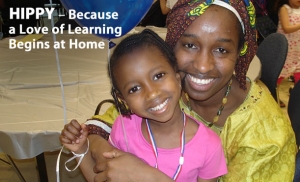 Why is FOL supporting this program?
Decades of evidence demonstrate that in order to put children on a better track for success in school, it is important that they be prepared to learn, develop a love for reading, and have sustaining family support.
FOL education specialists researched various models of successful family-based pre-school education to determine adaptability to Liberian culture and current conditions. The program they selected, Home Instruction for Parents of Pre-school Youngsters (HIPPY) , has evolved over 40 years and has been implemented with positive results in at least 15 countries, including South Africa and many communities in the U.S
Can we count on you? We pledge that experienced professionals will monitor this program for transparency, efficiency, and effectiveness. More info on FOL and updates on project progress can be followed under http://fol.org, especially the tab "blog." Your contribution can make a huge difference in the lives of Liberians during this CRITICAL transition time!!
You may make a donation on our secure Paypal account online under the "Donations" tab at www.fol.org/donate — please use the Family Literacy Initiative box — or send a check to the address included on the Donation Form linked to in red on the same "Donations" page.
More details on the FLI program, as well as information on some of the other programs FOL supports, can be found at the link at the top and above. (Do note that updates to the site are ongoing.) Additional info is summarized below.
Friends of Liberia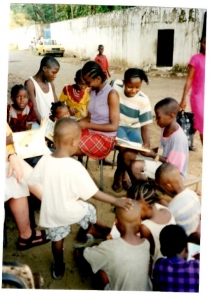 Founded in 1986 (30 years!) by returned Peace Corps Volunteers who had served in Liberia and wanted to remain in touch with the country and with each other, for mutual benefit
Members also include others who are personally familiar with Liberia through work, friends or family
Served by an all-volunteer board and officers who offer professional expertise and experience
Members have returned to Liberia to participate in several FOL-sponsored projects, especially the multi-year LEAP education project that trained more than 300 primary teachers
FOL raised $100,000 to contribute to community-based efforts to treat Ebola and prevent further outbreaks
Called upon by Congress and the State Department for its unbiased perspective and knowledge during the civil war
Approximately 1,800 members
Family Literacy Initiative (FLI)
The program will follow youngsters through two years of pre-school education (usually ages between 3 and 7 years old), and will also help educate and involve the parents and other children in the families at the same time. It uses a developmentally appropriate curriculum designed to strengthen the child's cognitive and early literacy skills, social, emotional and physical development.
The Liberian non-profit "WE-CARE Foundation, Inc." was selected as local partner to implement FLI.
WE-CARE was established in 1992 and focuses efforts on education.
For more info see www.we-carefoundation.org.
Periodic on-site monitoring and in-depth annual evaluations will be done by professionals with appropriate expertise who also provide action plans to correct any deficiencies.
HIPPY International also will evaluate the program for fidelity to its standards. More info on methods also at www.hippyusa.org.
Home visitors are hired from within the community, trained and supervised by the professional coordinators.
FLI Coordinators Gbima Bahtokpah and David Sonjor, shown left, were selected by a rigorous recruitment process that included interviews conducted by (among others) the Assistant Minister of Education for Early Childhood, Yukhiko Amnon, and FOL's Jefferson (King) Krua. Here they display a poster of FLI training so far.
Barbara Kamara, FOL member and part of the Education Working Group, and Dr. Miriam Wertheimer, Executive Director of HIPPY International, began training of the coordinators and potential home visitors of the Family Literacy Initiative (FLI) in November. Dr. Wertheimer was very impressed with the commitment of FOL, the Monrovia We-Care Foundation, and the prospective home visitor teams.
An emphasis on role play is among the teaching and learning methodologies employed.